Yoga Stops Traffick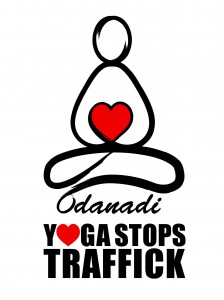 Yoga Stops Traffick           
Yoga Stops Traffick is a global one-day yoga event, founded by Odanadi UK trustees Sarah Harris and Sean Cleere. The city of Mysore is not only the home of Odanadi India, but also of Astanga Yoga, so it seemed like a perfect opportunity for the global yoga community to stand together on a single day in support of our extraordinary organisation.
Ashtanga Yoga is of huge significance to the people of Odanadi. As part of their rehabilitation program, it has allowed them to reclaim their bodies; build physical and mental strength, and restore a sense of peace, confidence and self-worth.
Every year since 2010, thousands of yoga practitioners from around the world have participated in over 90 events from London to Bangkok, Bangalore to Chile and  Sydney to Sweden.
Over the past five years we have raised over £100,000 for Odanadi India, to help support and promote the crucial work they do in the fight against trafficking.
Take Part  and help to spread awareness about the exploitation of women and children in India

More on YST here                     

  Like us on Facebook                        

 Tweet us                        See more 

         Join the Mailing List 
News:
The Hindu: Yoga for a Cause by R. Krishna Kumar
HuffPost Impact: Yoga Activists Fight Human Trafficking by Peter 'Souleo' Wright